Enterprise-class Business Information by email
Inbox Intelligence® generates and securely delivers superb quality, personally targeted drilldown Management Reports and Business Documentation better, faster and cheaper than any other email Business Intelligence solution.
Multiple documents and reports are delivered in a single email, securely accessible anywhere in the world by PC, laptop or smart phone with no need to logon to Oracle.
Managers benefit from near instant-response drilldown reporting against unlimited business hierarchies & KPI's with no limit on User numbers and no User training required.
Inbox Intelligence is fully secure with 128 bit end-to-end data encryption, webserver authentication & filesystem security ensuring individuals see only authorised data.
As a seamlessly integrated E-Business Suite custom application using only native Oracle technology it implements the standard security model and is covered by Oracle support.
Management Reporting & Analytics
Inbox Intelligence® reports against the entire E-Business Suite database, delivering intuitive, personally targeted drilldown Management Reporting to unlimited User numbers worldwide - "on a plate".
A single scheduled E-Business Suite Request Set automatically emails every Manager in the Enterprise with their own personal Weekly MI Reporting Pack, providing drilldown visibility of performance against target throughout the entire Organization.
For example, click on the links in Gerald Cartwight's email (left) then drilldown to detail inside his reports and experience Gerald's detailed insight into his own and all his subordinates' performance.
Inbox Intelligence® delivers greater business transparency and accountability compared with any other MI solution because it reaches every Manager - from junior executive up to the CEO - simply, directly and intuitively.
Jonk Software supplies template reports that plug into the core E-Business Suite tables, enabling universal drilldown Management Reporting against most business critical KPIs, providing instantly deployable, effective Enterprise Perfomance Management on a global scale - at next to no cost!
Customer / Supplier communications
Inbox Intelligence® output is generated using the EBS Concurrent Manager which schedules email document delivery.
Dunning Letters for example (image right) automatically prompt for customer payment.
Document-opened reports identify exactly when, where & by whom information is read.
Telesales staff are alerted with prospects' personal contact details the moment each individual mass marketing email is viewed.
Exception reports also identify whose emails are still unread after a given period of time.
Most business documentation is supported:
Invoices
Purchase orders
Remittance advice
Account statements
HR Letters and correspondence
Inbox Intelligence® streamlines business processes and improves audit and efficiency.
Employee Payroll & PAYE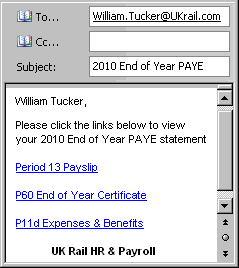 End-to-end database to browser encryption means Inbox Intelligence® is ideal for email delivery of Payslips, PAYE & Tax statements.
Comprehensive document / recipient audit tracking means exact original documents can easily be re-sent without re-generation.
Click below to view William Tucker's 2010 End of Year PAYE statement (image left)
Inbox Intelligence® email document delivery seriously cuts payroll costs & reduces CO2.
Inbox Intelligence® extends standard Oracle BI Publisher
Inbox Intelligence® is an OA Framework / BI Publisher custom application which exploits the embedded E-Business Suite report bursting engine and extends the core product with powerful new functionality, summarised below: